VPN Documentation
Below are the steps on how to login using VPN, you can access Panel/FTP account using below 2 methods:
I - Using the web browser
Login to IDM SSL VPN account using the following credentials and click on the appropriate bookmark (web or ftp)
Hostname:
https://sslvpn.idm.net.lb:10443
Name:
xxxx
Password:
xxxx
For example, by clicking "Plesk web", you will be redirected to the Plesk panel web interface and by clicking on "Plesk ftp"; you will be redirected to Plesk FTP login.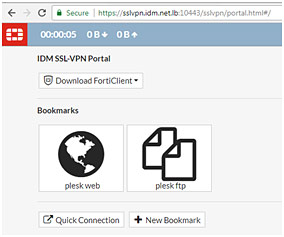 Notes: In case of connection issue due to TLS error, go to Internet Explorer, tools, internet options. Then, click on advanced and check the three TLS options (TLS 1.0/1.1/1.2) at the bottom of the list.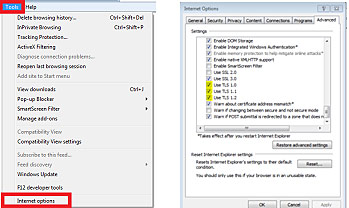 II - Using the FortiClient software
1- Login to IDM SSL VPN from the web browser
Login to IDM SSL VPN account using the following credentials

Hostname: sslvpn.idm.net.lb:10443
Name: xxxx
Password: xxxx

1.1- Download the appropriate file based on your installed Operating System

You can find 4 files for different operating systems, please choose the compatible one:

1.2- Download the FortiClient exe file
Once downloaded, please install the application on your device
2- Installing the FortiClientMiniSetup_X.exe
Follow the installation steps to download this software and make sure that the VPN client is installed successfully.
Make sure to accept the license agreement and choose secure remote access.

FortiClientMiniSetup_X: meaning FortiClientMiniSetup_Operating System

Windows device exe file

3- Configure Forti client with the below settings
Use the below when creating a new remote access connection entry under Forticlient application, then click apply.

Connection Name: IDM_Forticlient
Description: IDM_Forticlient
Remote Gateway: sslvpn.idm.net.lb
Enable the customized port and add 10443 instead of 443 in the text field.
Username: xxxx
4- Connecting to VPN
Once done, from the FortiClient Console, click on Remote Access icon, choose your personal account registered in section 3 and enter the below credentials:

Login: xxxx
Password: xxxx

Successfully connected